It's sometimes hard to imagine that we've come so far over the past 15 years... Our little cause grew and grew - leading us in new directions and guiding our paths to discover things about ourselves that we could never had imagined otherwise.
While saying that though, it is often easy to forget that new people come across our works who have no knowledge of any of our history, some who do not care for the information or the work we do, but often many who would love to delve head first into the backstory of how it all began and what brought us to our current phase of being.
There are so many stories to share, many videos and photographs that we at one point or another would have winced at sharing for fear some unkind soul would post judgemental and hurtful comments (like when Eggy's eyes were gunky, Wolfie had sneezies, Chewie was at her lowest with fur-loss or Beany "has accidents" on his nappy-pads) but now, after losing them all and having to begin our most heart-wrenching hard journey from the beginning again.. I've come to realise I would rather see these memories and know that I can look on our own website for a little guiding light and a "warm hug" feeling from our past... than lock everything away in fear and forget about long since lost memories.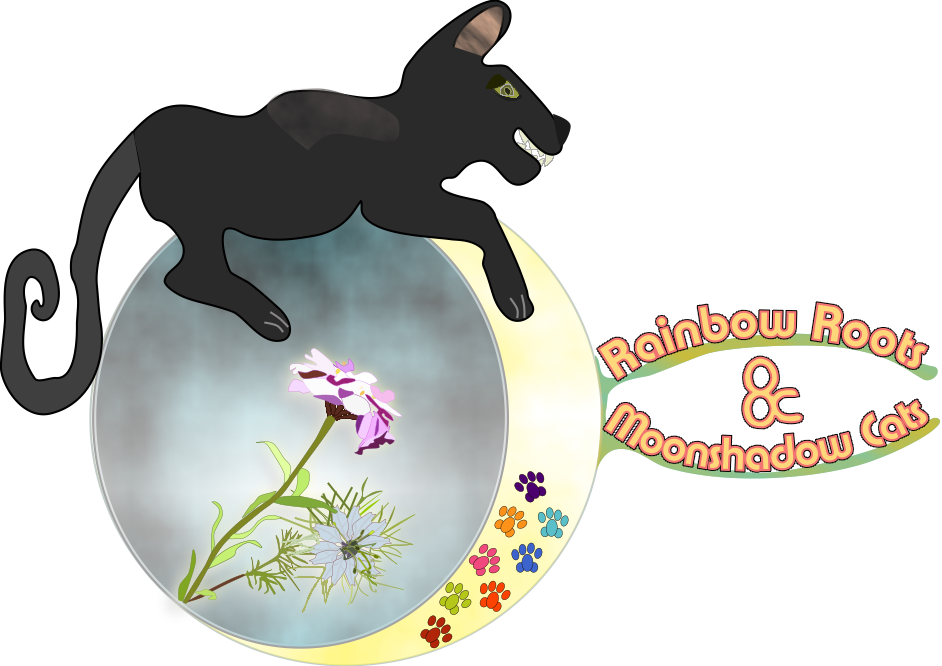 A new Beginning - a new name but never forgetting.
Although everything we ever do will be within the name of The Craft-E-Kittens, I felt it was time to use a new name collectively for the new generation... I've thought it over for some time - after losing Wolfie in 2016, along the way this year (2019) with all the losses one by one - but NOW, now that we have a literal new beginning with not one soul from our previous existence here to guide us - It is time.
Meet the members of Rainbow Roots & Moonshadow Cats. A family brought together in times of necessity