Stitch [Beany]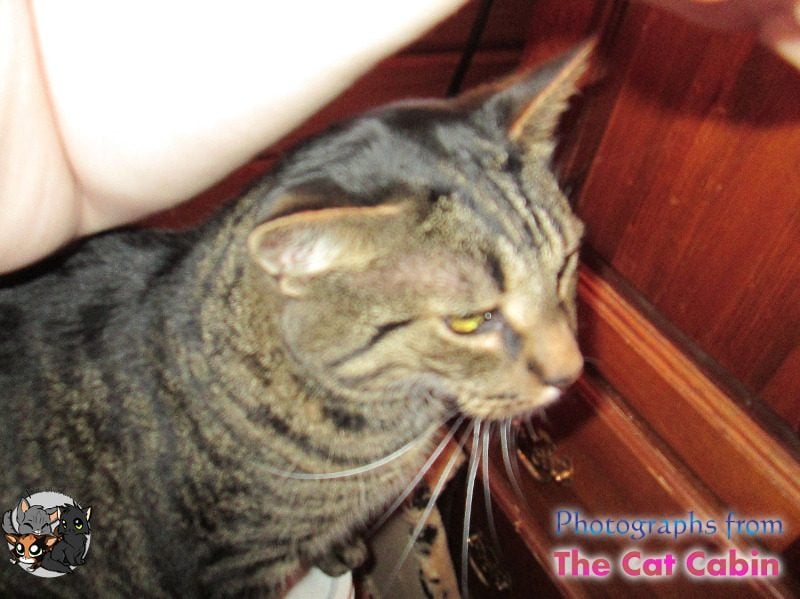 Stitch came to us with Eddy on 12th July 2014
They both came from the same home, but due to the family recently having a baby they had to give up the cats as the baby developed an allergy to them.
Beany has Brown, black and tan mid length fur with highlights.
He is FIV positive. He shows no obvious signs of illness from this so far.
(update feb 2015) he has started to occassionally sneeze when washing - unsure if this is related to immune disorder.
It is estimated that Beany is between 3 and 4 years old
He likes to sleep on his blue stool, on his paddle blanky on the sofa or on top of mumma (Me!).
He rarely has hugs with the other cats at playtimes but does occassionally like licky washes with Wolfie and Chewie.
Beany has made many attempts to try it on pum, or to mistake her mad dash from house to cat scratch tree - as a sign of "ooh chase play play time" then realised too late that this may result in being playfought by her and retreats swiftly (dont blame him!). Generally he seems to get along well with the others, but for coming from a home with Eddy - they dont seem particularly bonded.
His favourite foods are Felix As Good As It Looks, especially Trout and Courgette or Chicken and Tomato. Also adores Vitacat and Gourmet Gold!
He doesnt have a favourite toy but does enjoy playing with home made toys such as Meesers etc.